Veterinary Facilities
Improve the health and safety of your veterinary hospitals and clinics.
Veterinary clinics are tasked with providing a safe and clean environment for pet patients to thrive. Entryways, exam and treatment rooms floors are often a breeding ground for dirt and germs. Contamination travels underfoot, and under paw, from room-to-room. These deposits are unreachable by traditional cleaning methods.
There's a solution.
Shorewood high-performance coating inhibits the spread of germs while improving maintenance efficiency. Our coating creates an attractive and long-lasting layer of protection for veterinary hospital floors.
"As a veterinary hospital, our floors get a lot of abuse. On a daily basis our floors are subjected to foot and paw traffic, and a whole world of unmentionable messes. We had our floors treated with Shorewood's High-Performance Floor Coating, and we could not be happier! After 4 months of wear and tear the floors still look great. The floors are extremely easy to keep clean and disinfected, and our clients frequently compliment them. If there was ever a sure test of a floor treatment, a veterinary hospital sure takes the cake! Thanks Shorewood."
- Washtenaw Veterinary Hospital
Health and Safety Coating Innovations:
Shorewood high-performance floor coating gives you the confidence of protecting the health and safety of your veterinary hospital from the ground up.

Our coating:
Protects floors from pockets and crevices where contamination collects, such as in raw grout.
Increases the effectiveness of your infection control procedures.
Reduces the time and expense of cleaning, eliminating the need to use harsh chemicals.
Provides and durable and radiant shine to your floors, lasting 2-5 years
At Shorewood, we work with our veterinary partners to target burdensome maintenance areas in hospitals and clinics. These may include entryways, treatment rooms, or high-traffic areas that are the biggest contributors to infection spread. Some facilities might also choose areas where floors receive the greatest wear-and-tear to protect floors from heavy paw and people traffic.
The Process
Shorewood provides a two-step process:
Extraction cleaning: We use the latest cleaning technology to extract dirt and microbes from floors, including surfaces such as raw grout. Our cleaning extraction process often creates a dramatic difference in the appearance of your floors.
High-performance coating: Our floor coating creates an impermeable barrier, protecting floors from the collection of dirt and grime, while providing a lustrous shine to floors.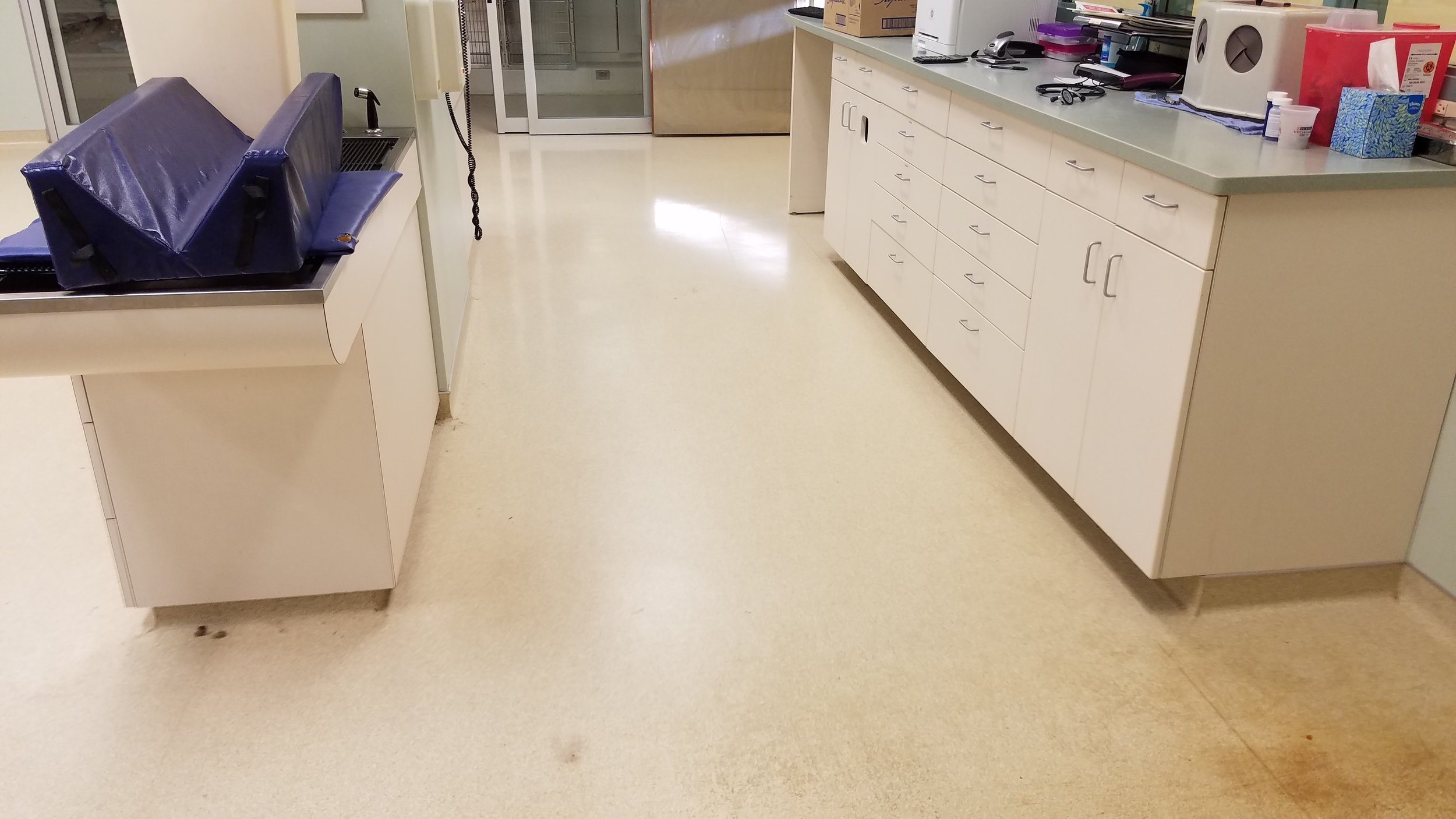 Full removal of stains and yellowing.
It's hard to believe that it's been 2 years since Shorewood treated our hospital floors. They still look amazing and clean up as easy as they did on day one. We have had no issues with staining, despite the messes that frequently occur in an animal hospital. The pitter patter of pet paws and nails has not dampened the gleam of the floor coating. We loved it so much we recently finished the remainder of our hospital with this fantastic product! Thanks again Shorewood!

- Washtenaw Veterinary Hospital
Schedule a complimentary survey: